Company Identity
Labchip based POCT and in vitro diagnostic Game Changer!
Mission
Easy Answer to Life
MiCoBioMed tries to provide customers with a easy and quick way to get the basic information of diseases, which are base of happy life. For that we always try to develop creative technology and share with others.
Vision
Together 100 Years
MiCoBioMed's vision is to become a lifelong partner for individuals in a time where the average life epectancy is reaching 100 years.
Operation Principle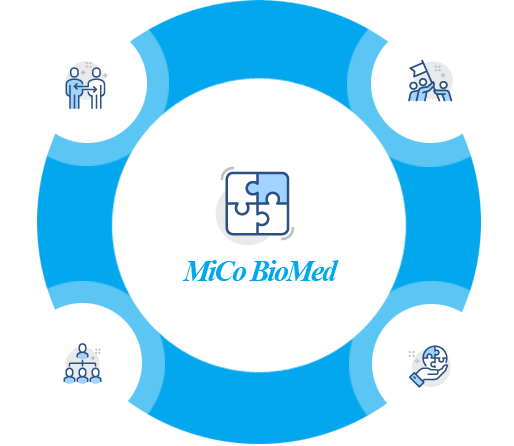 Our mission

• Provide a workplace where employees can align their passions with purpose

• Provide a lifelong career
HR management

• Opportunities for competent employees

• Appropriate compensation for achiecements

• Leadership for employees with excellent emotional intelligence
Personnel management system

• Flexible promotion system according to employee's performance

• Performance evaluation by organization / individual

• Appropriate compensation for reward system
HR slogan

• 100 Years Together
No retirement & retirement plan (pension system) Stock option & employee stock ownership plan

• 5 : 2 : 2 : 1 Rule
Profit Sharing (Distribute over 20% of profit toemplyees)

• Working 1800 hours (Flexible)
Working environment improvement and consolidation of education
Slogan
Cheerful Energetic Clean Fast